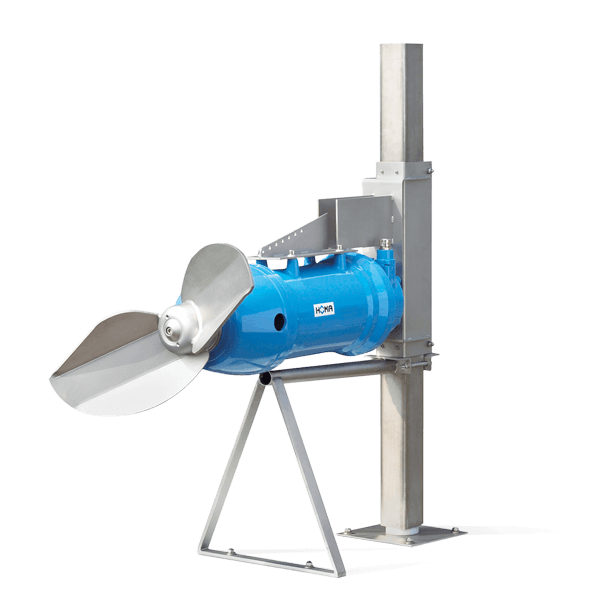 Characteristics:
Application
Sludge homogenisation, Suspension of sediments or swimming covers, Fish farming, Ice prevention, Flow generation, Cooling basins, Storm water tanks.
Materials
Propeller (Stainless steel 1.4306) Motor- /Propellershaft (Stainless steel 1.4104) Gear case (Grey cast iron EN-GJL-250) Motor housing (Grey cast iron EN-GJL-250) Motor bearing cover (Grey cast iron EN-GJL-250) Bolts (Stainless steel) Elastomeres (Nitrile Rubber) Installation system (Stainless steel 1.4571) Mechanical seal (SiC / SiC) Lip seals (Nitrile Rubber) Motor bearing (Deep Groove Ball Bearing / Double row angular ball bearing) Gear shaft bearings (Two taper roller bearing)
Motor
Electric motors, with 4-pole motor speed. Insulation class H, degree of protection IP 68. Thermal sensors embedded in the stator winding protect the motor from overheating. PTC sensors on request. With seal probe in oil chamber.
Seals
The shaft seal with two mechanical seals (back to back) made from corrosion-resistant SiC/SiC, combined with two additional radial shaft sealing rings, which run on the carbon coated propeller hub, guarantee Optimum protection against the ingress of media and solids.
Construction Type
The robust design of HOMA submersible mixers guarantees long-life trouble-free operation even under most demanding conditions. The hydraulically optimized design of all propellers, transmission and motor drive results in outstanding efficiencies and excellent mixing performance with minimum flow losses.
Installation
Installation system with drain device for individual positioning of the unit. The motor mounts for the 8- and 12-pole agitators are manufactured using the stainless steel investment casting process. The plastic guide rolls have solid metal cores.
Pumped Liquid
Max. medium temperature:40 °C, short term up to 60 °C.
Shaft/Bearing
Robust, maintenance-free, permanently lubricated deep groove ball bearings/double row angular contact ball bearings.
Propeller
Hydraulically optimized, 2-blade propeller, self-cleaning design, stainless steel

Download