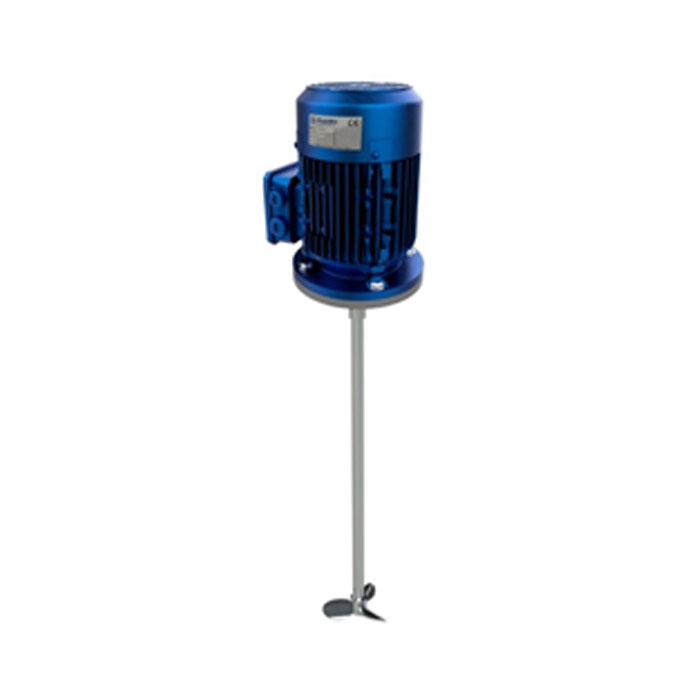 VHS Series Industrial Agitator
The smallest mixers of our range are the VHS stirrers. They are fast running mixers, available in three speeds: 750, 1000 and 1500 rpm, and are suitable for little tanks, with volumes from 50 to 1000 liters. Appropriate for chemicals, dissolutions, non- viscous liquids. The standard mobile is a three blades marine propeller. Simplicity and economy are characteristics of VHS mixers. The propeller can be easily adjusted along the shaft if necessary, or it can be equipped with two or more propellers.
Main Features VHS Mixer:
For tanks 50 – 1000 liters.
Motor power: 0.12 kW to 0.55 kW.
Running speed 750, 1000, 1500 rpm.
3 blades marine propeller diameters 80 to 140 mm.
Shaft diameter 15 or 20 mm, length up to 800 mm.
Shaft and propeller AISI 316, or polyethylene coated.
Fixation flange with double lips oil seal.
Optional Extras:
AISI 316 flange.
Special coatings at shaft + propeller.
Food industry execution, polished.
ATEX motors.
DIN or ANSI flanges.
Clamp support.

Download