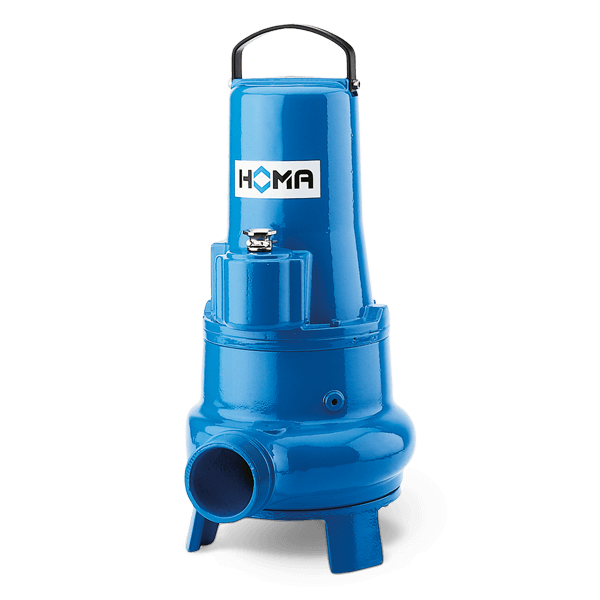 Electric Submersible Pumps for Waste Water Containing Solids. Single Channel Impeller, Spherical Clearance 50 mm – TP50 M
Design
Fully submersible, compact integrated motor-pump unit consisting of:
Pump: Single stage centrifugal pump with horizontal discharge BSP 21/2"M.
Impeller: Closed single channel impeller for liquids containing impurities and sludge with solid particles. Spherical clearance 50 mm.
Motor: Fully submersible, pressure tight electric motor. Insulation class H. Degree of protection IP 68. Thermal sensors embedded in the winding on request (standard with TP50M50, TP50M12/2W, TP50M17W and model Ex). Motor start: TP50M12-37: Direct-on-line TP50M50: Direct-on-line or Star-delta-start Cable: TP50M12-37: H07RN-F 4 G 1.5 TP50M12-37Ex: H07PLUS 6 G 1.5 TP50M50(Ex): H07RN-F(PLUS) 10 G1.5
Shaft/Bearing: Large diameter stainless steel rotor shaft, pre-lubricated bearings.
Seals: Combination of mechanical seals (silicon-carbide/silicon-carbide) in a separate oil chamber (models above 1.8 kW). Models up to 1.6 kW with mechanical seal and lip seal. Oil inspection from outside.
Explosion protection: All models available with explosion proof motors according to II 2 G Ex c d II B T4 (T3).

Download